Prithviraj Kapoor
Director/Actor, Bollywood.
I felt very happy after coming here. I felt deeply thrilled from inside.
Sonia Gandhi
President, Indian National Congress.
Very good and interesting water colour and tempera..
Mahesh Prasad
Chairman, The International Trade Fair Authority of India.
I have watched with great admiration, for the last 35 years Prof. Sukhvir Sanghal's silent and tireless dedication to art, away from the glare of publicity. He is the foremost wash painter and a true interpreter of India's cultural heritage and artistic values. It is our good fortune that he has finally chosen to come out of his seclusion and exhibit in Delhi after many, many years. This exhibition, which is the artistic event if the year will expose for the first time perhaps to art lovers and lay public alike, the true art and full extent of his creative genius, through the first public display of some of his great works. May his creativity continue to flower for many years to come.
Padma Vibhushan Dharma Vira
Governer, West Bengal/Karnataka/Haryana.
I am grateful for being invited to the exhibition of water color paintings of Prof. Sukhvir Sanghal. Prof. Singhal is not just an artist but his paintings have a great background of art, aesthetics and philosophy. Like most modest person he was most content being immersed in his pursuits and has not been hankering after rewards and recognition through publicity and drum beating. This is probably how he is exhibiting his paintings in Delhi for the first time. I am confident that lovers of Art in Delhi will greatly appreciate Prof. Sukhvir's work and that the exhibition will be a great success.
Purushottam Das Tandon
Speaker, Assembly of U.P.
Sanghal is serving the society by starting an Art school pray for his success.I am quite influenced by his works.
Shivraj V Patil
Minister of Home Affairs, India.
Very good.
Congratulations
Jatin Das
Painter, sculptor and muralist, India.
Very sensitive work and gentle handling of color.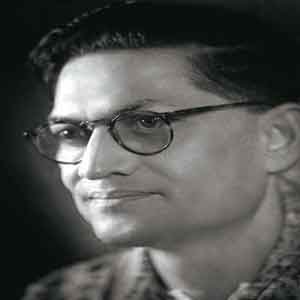 A K Halder
Artist, India.
I am glad to visit the Art Studio of Mr. Sanghal, an ex-student of my school, at Allahabad. He also recently helped the Allahabad University to organise an Art exhibition which was a great success. He also exhibited his own works in various exhibitions in India and abroad. He is a young artist of great talent. He has got true sense of balance, rhythm and proportion and his works show very great promise. In his studio he has got a group of lay-artists to whom he has already been able to inspire. I wish his school a great success.
Dr. Sampurnanand
Ex-Chief Minister of Uttar Pradesh, India.
Some of the studies, e.g. the serial study of Hindu marriage and some of the problems of facing the Indian peasants and labourers are very interesting. I have not seen such stories elsewhere.
Sudhir Narain Agarwal
Judge, Allahabad High Court.
I remember Prof. Sukhvir Sanghal, my Art teacher, fondly and with reverence. He taught me to pick up brush and create paintings with colors. My seven years rolled on in his institution known as 'Kala Bharti'. Prof. Sanghal was student of Prof. Asit Kumar Haldar, an eminent Artist and at one time, Principal of Govt. Arts College, Lucknow. He belonged to the Bengal School of Arts. This system of paintings takes much time, meticulous designing, thoughtful color mixture. He created more than 100 paintings but sold only a few.
These paintings express different shades of human life, the bliss and agony, the inherent spiritual vision and on the other hand the sufferings of humanity. Many paintings depict historical events. The expressions in human figures are lively and meaningful.
He devoted his entire life in creating paintings and hardly left any time for any social work. He was far away from social din and publicity. He remained obscure in public life. He authored many books but his last book 'Evolution of Art and Artists' running about in two thousand pages is still unpublished. May his paintings be exhibited and books published.